Roberts Has Been Adding His Touch To & Redesigning Subway Maps Since 1999 & Been Sharing Them With The Public Since 2004
University of Essex Psychology lecturer Max Roberts spends a lot of time tinkering with the world's subway maps… but Roberts doesn't necessarily design his retooled transit maps as solutions.

Roberts says,
I've deliberately designed maps that are deliberately horrible to look at and succeeded."
You may have seen his most recent work, a circle-based reinterpretation of New York City's subway map. The result is visually striking, although early criticisms point out its geographic distortions render it too confusing for real-life use. That's something the designer readily acknowledges, telling Gothamist …
New York shouldn't work in this style at all, it is a grid city, not a radial city"
Roberts has been redesigning subway maps since 1999, but only sharing them with the public since about 2004. As long as Roberts keeps coming across subway maps that aren't perfect, he says he'll keep exploring different ways to redesign them.
Roberts adds …
There are too many designers who don't understand why they're creating diagram maps. They think that there's something special about straight lines, so that all they have to do is get out a ruler, and they have a masterpiece."
Below, Roberts shows us five of the maps he's designed (including the most recent New York one) and his thinking was behind each one.
NEW YORK IN CIRCLES: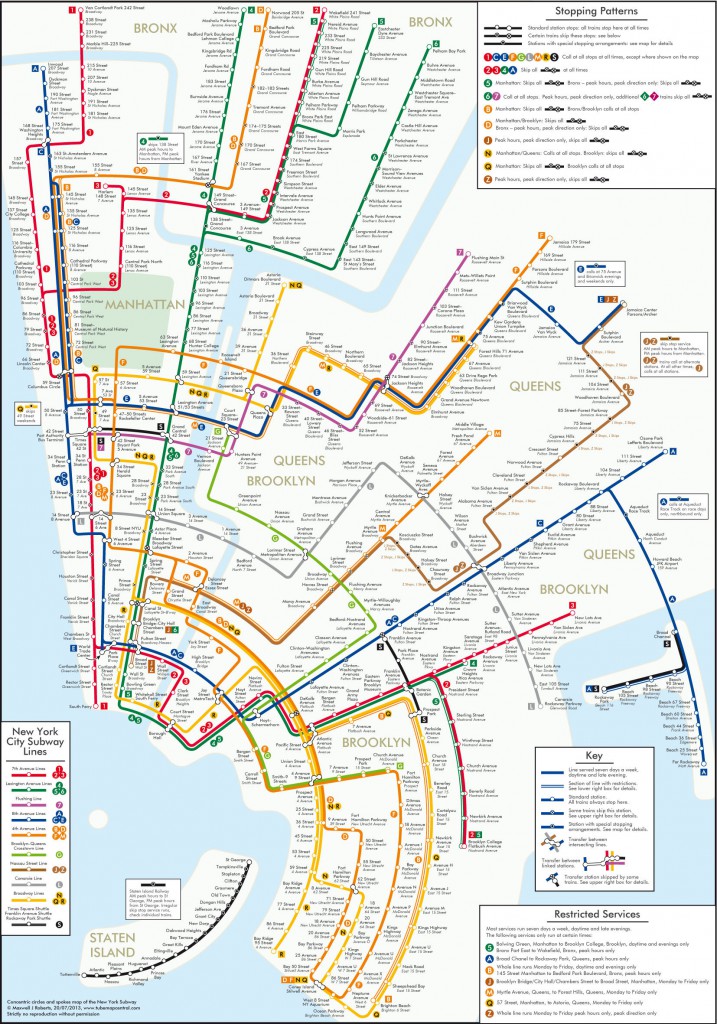 Yes, this is one of my favorites. We can debate its usability, I can see strengths and weaknesses on this count, and geographical purists will never be comfortable with it, but the reason why I like this is because I have never been so surprised at the outcome of a design experiment. It is so powerful and coherent, I was not expecting that when I started."
PARIS CURVY MAP: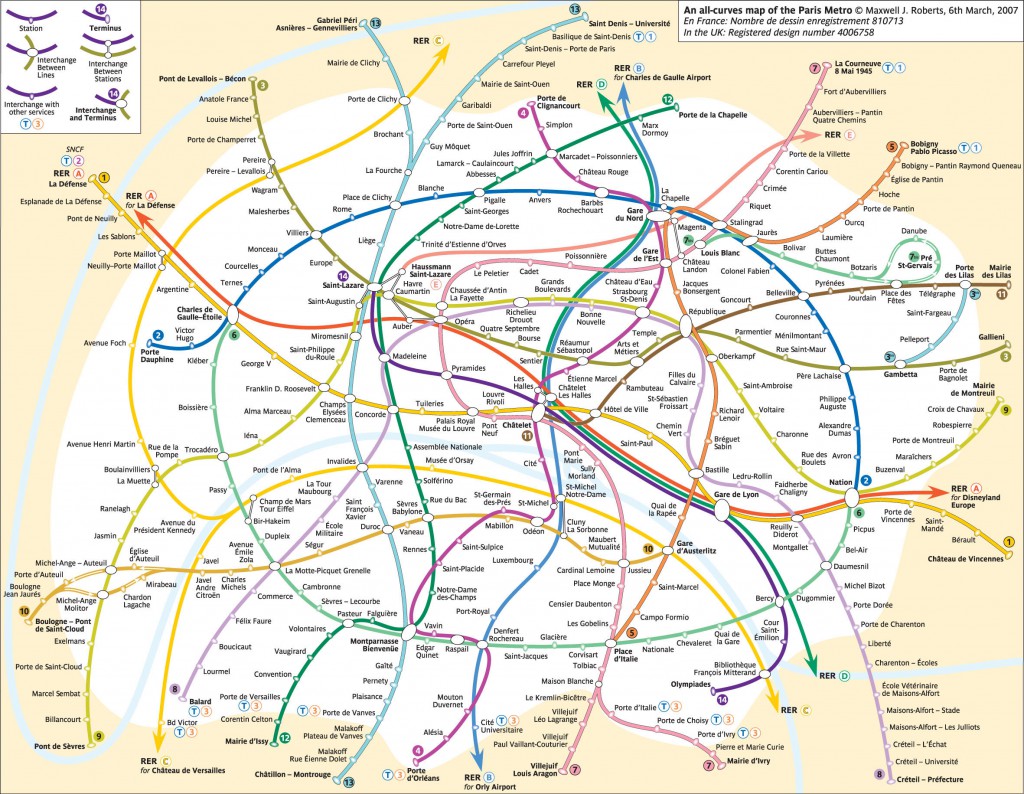 Some networks are so complicated that I wonder whether any linear schematic could tame it in any way. The Paris Metro map in an impenetrable tangle of zigzags, and so I experimented with all-curves maps in which the harsh corners are smoothed away so that the gaze flows across the page without constant interruptions. This map is 50% faster for journey planning than the official map. When you think about all the tourists in Paris, that's a lot of time saved."
HEXALINEAR MAP OF LONDON: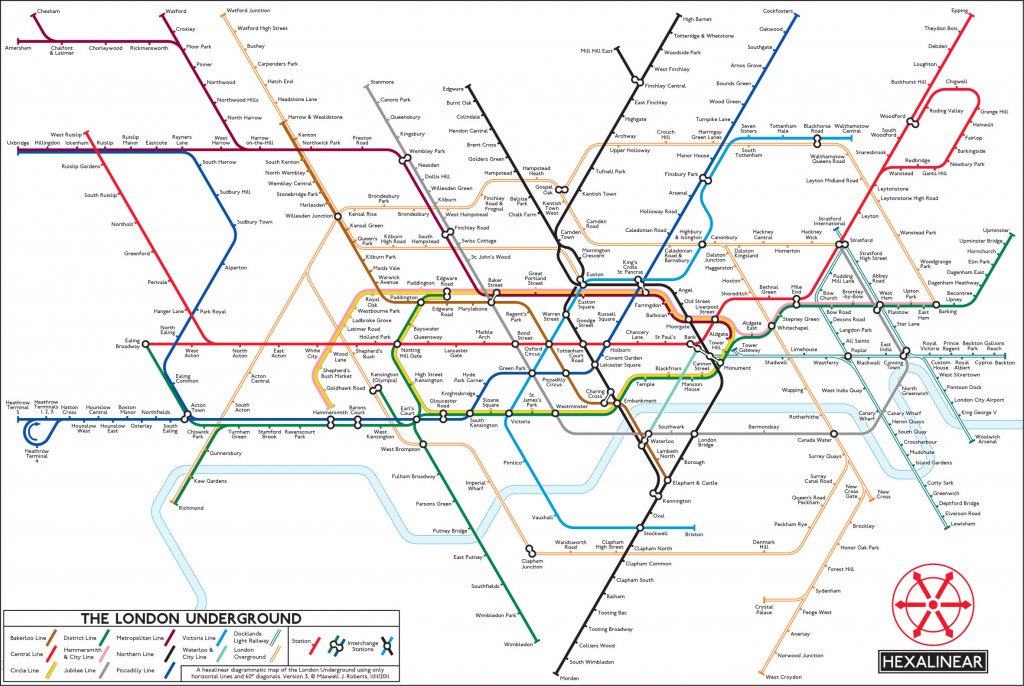 Sometimes, less is more. One of my arguments is that every city has a different shape, and therefore the rules for a map should be chosen to fit the structure of the network. This London map has just three angles, and yet there are fewer corners inside the Circle Line than is possible for any standard schematic, and lots of equilateral triangles for people who like geometric purity. How many designers ever wonder whether hexalinear angles might suit the network being mapped than standard ones?"
IF CHARLES MACKINTOSH DESIGNED A LONDON SUBWAY MAP: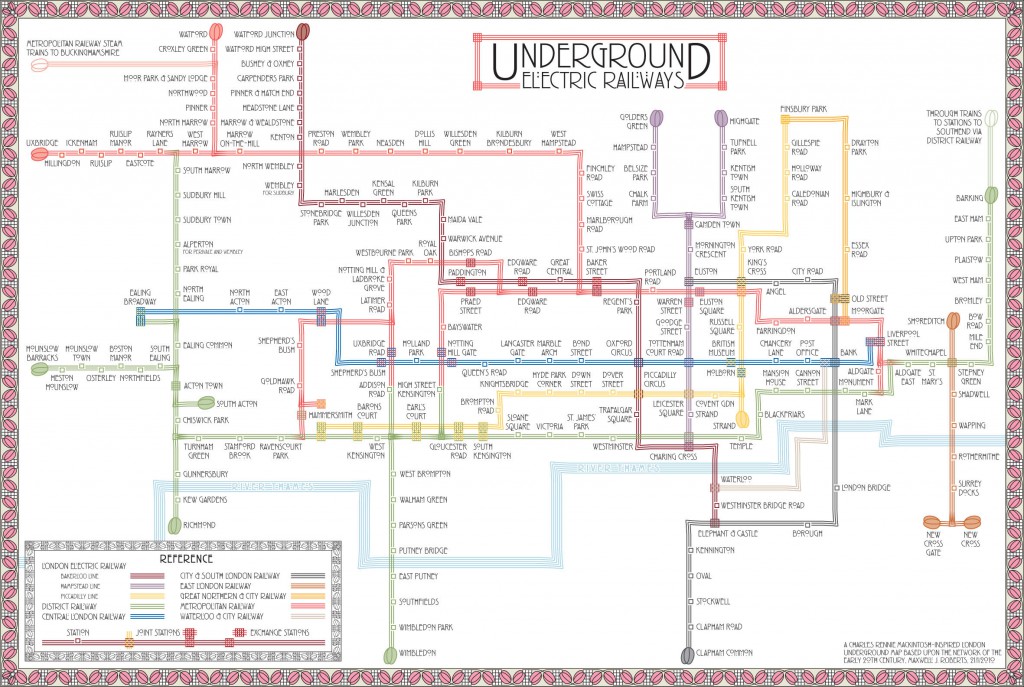 Ideally, maps should be usable and beautiful but sometimes it's good to create a map that is solely intended to be beautiful with no usability considerations whatsoever. The Scottish Art Nouveau designer and architect, Charles Rennie Mackintosh never had anything to do with the Underground, but what if he did? This map impersonates its style, and is deliberately designed to be unusable!"
IF MASSIMO VIGNELLI DESIGNED A LONDON SUBWAY MAP: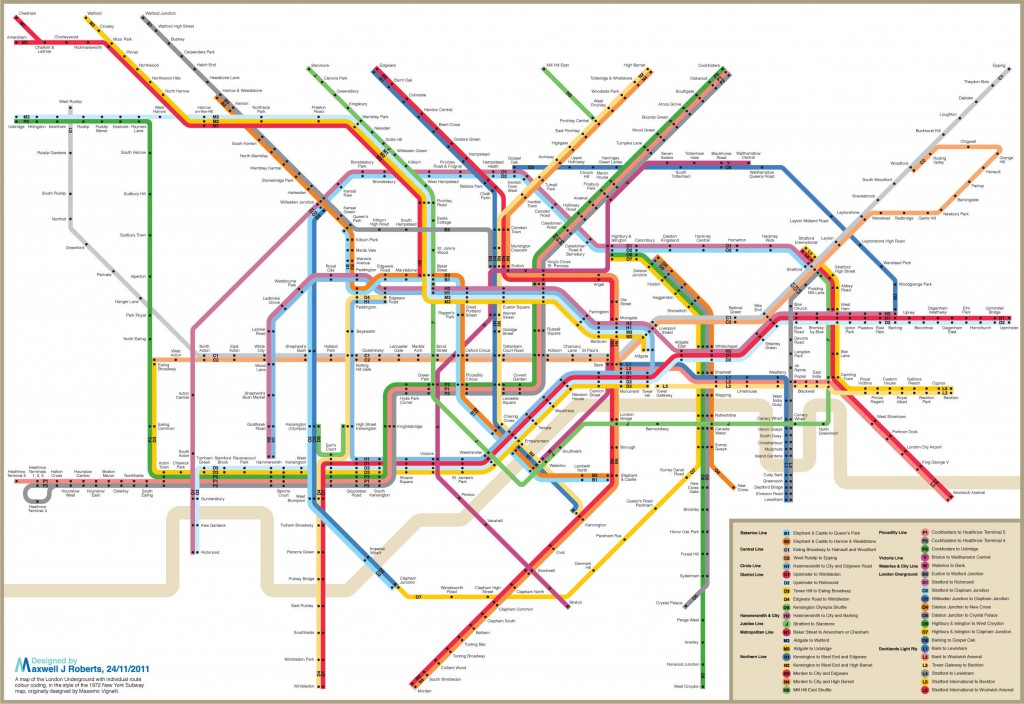 The 1972 Vignelli map of the New York Subway is very controversial, and many people complain about its geographical accuracy (although most of the map actually isn't too bad on that count). I've always wondered whether the riot of color of New York's 1970s lines makes the map more formidable and off-putting. As a little experiment, I had a go at creating a London underground map in exactly the same style. If the London Underground was sent to New York in 1972, it could have ended up with a color scheme something like this."
SOURCE: CityLab